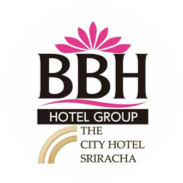 The City Hotel, Sriracha is located in Sriracha City Center. Where is less than one hour drive from Suwannabhum International Airport, the new Bangkok Airport. For Businessman The City Hotel is at the center for all major industrial estates of the east. It's only 9 kilometers of the others such as Amata Nakorn, Amata City, Eastern Seaboard Industrial Estate,Saha Group.
The City Hotel id golfer paradise as there are 19 golf course nearby nad it is only 10-30 minutes drive to 10 world calss golf course designed by world famous golfer such as Gerg Norman,Jack Nicklaus. Golfer could be will pampered after the match at Ramburi Spa with golf massage in an exotic ambience.
The City Hotel Sriracha
Luxury interior
Treat yourself with one of our enticing packages. There's never been a better time to enjoy The City Hotel Srirachal experience.
special offers
promotion
Golf Package
Enjoy wide range of menu on our Wednesday Buffet.
The City Hotel is golfer paradise as there are 19 golf courses nearby and it is only 10-30 minutes drive to 10 world class golf courses designed by world famous golfer such as Greg Norman, Jack Nicklaus. Golfer could be well pampered after the match with golf massage

Gift card
Available in custom amounts up to USD 10,000
Exquisitely presented in a gift folio
Ship a Gift Card
Today 25% off on hotel room or any other events
Treat yourself width on of our enticing packages. There's never been a better time to enjoy The City Hotel Srirachal experience